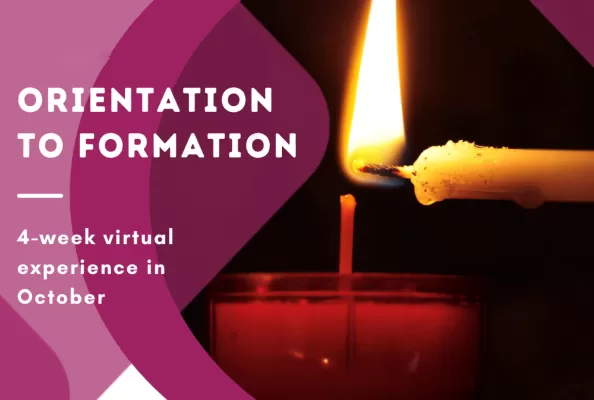 Overview
The changing and hope-filled realities of religious life today raise challenging questions regarding the present and future life of the global Church. These questions are especially relevant to leaders and formators involved in the sacred ministry of initial formation. The critical question most often raised by leaders and formation directors alike is how best to accompany new members as they discern their call to religious life?
Extended registration deadline is Friday, September 22nd.
Orientation to Formation (OTF) is specifically designed for newly appointed formators, mentors and leadership liaisons to formation. OTF provides an overview of the opportunities, as well as the gifts and challenges embedded in the ministry. This program will provide a range of resources for formation ministers. It will also offer opportunities for formation ministers and leadership to connect and share best practices with presenters, RFC staff and other participants.
This year OTF will be offered as a 4-week online experience via Zoom. Participants will meet from 11 AM to 2 PM (CT) each of the four Tuesdays in October (October 3, 10, 17, 24, 2023). Preparatory materials will be sent in advance of each session. The online time together will consist of input, focused conversation in small groups, and large group sharing.
All participants are encouraged to establish ongoing individual and peer group supervision. Formators are encouraged to contact their RFC Member Area coordinator (see InFormation magazine) for more information about individual and peer group supervision. An optional fifth week (October 31, 2023) is designed specifically for elected leaders who have participated in the previous four sessions of OTF.
Week I: Formation Ministry Today
Week II: The Art of Accompaniment
Week III: Relationship/Community: Locus of the Formative Journey
Week IV: Religious Life: Ever Ancient, Ever New
Week V (optional): Elected Leaders Relationship to Formators and Their Ministry
Facilitators
Mary Pat Garvin, RSM, PhD is a member of the Sisters of Mercy of the Americas. She holds a doctorate in psychology from the Gregorian University where she was on the faculty from 1994-2001. Since 2001, Mary Pat has taught for Seton Hall University and worked with national and international conferences of Religious, as well as Religious congregations throughout North and South America, Europe, Africa, Asia and Australia. In 2017 she received the Mary Emil Penet, IHM Award from the RFC in recognition of her contribution to the ministry of initial and ongoing formation for women and men Religious in North American and internationally. Mary Pat is a Fellow in Human Formation with Saint Luke Institute in Silver Spring, Maryland. Her research interest is the interplay of spirituality and psychology in the promotion of a healthy and holy living of Religious Life.
Paul Michalenko, ST, PhD is a religious Brother with the Missionary Servants of the Most Holy Trinity. He has served as Novice director and coordinator of his congregation's international vocation and formation programs while serving on the general council. He taught at the Institute of Religious Formation for 17 years and was director of that program for six years. Paul has served as a facilitator and organizational consultant to many church and nonprofit groups over the past thirty-five years. He has worked with women's and men's religious congregations, facilitating reconfiguration processes, assemblies, chapters, pastoral planning and other transition processes.

Tuition
Four-day package
Member rate: $300
Non-member rate: $400

Optional fifth day for leaders (any elected leader can participate, do not need to participate in prior 4-week series):
$100 for members
$175 non-members

Five Day Package
Member rate: $375
Non-member rate $475